Where to Stay? Perdido Key, Orange Beach, Gulf Shores or Fort Morgan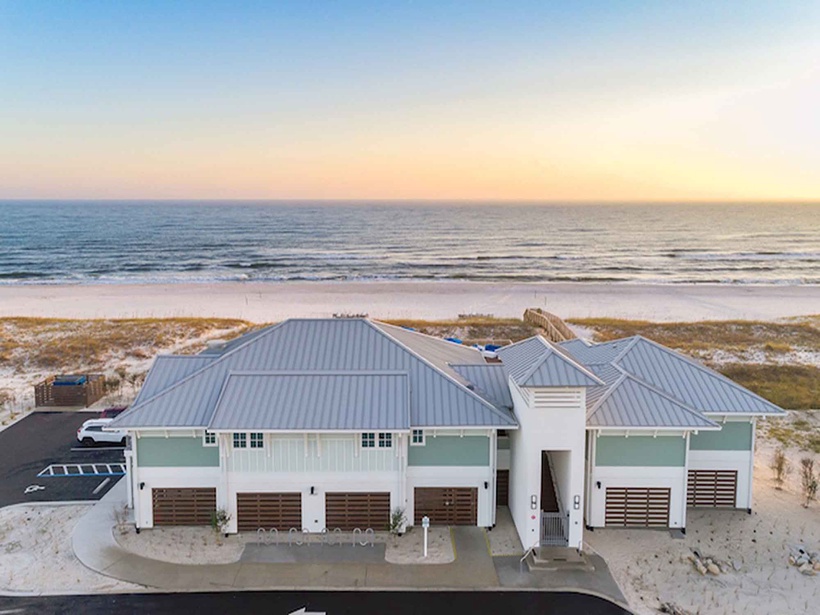 The narrow strip of land that make up the northwest Florida and the Alabama Gulf Coasts are surrounded by the warm waters of the Gulf of Mexico to the south, and the back bays to the north. These waters help make this area one of the most popular beach destinations in the United States. Visitors have their choice of four main areas to stay – Perdido Key in Florida, and Orange Beach, Gulf Shores and Fort Morgan all of which are in Alabama. Each of these areas offer their spin on the perfect vacation destination. And fortunately, all are close enough to each other that you can experience them all on one trip. 
Perdido Key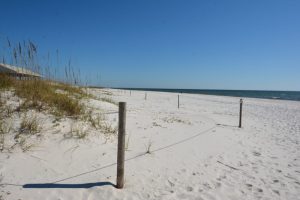 If you are looking for the feel of Old Florida and enjoy a more quiet and relaxing vacation, then Perdido Key is your kind of place. Perdido Key offers a more laid back vibe. And with the exception of the area around the Flora-Bama Beach Bar, it is definitely a quieter place to stay than either Orange Beach or Gulf Shores. Perdido Key also is home to one of the best beach in the area. Johnson's Beach, which is part of the Gulf Islands National Seashore ,offers several miles of completely undeveloped beachfront which is a rare find these days. Perdido Key is not without its' conveniences. The island has an ample supply of restaurants as well as grocery stores and even a Walmart and Target. You will also find some of the unique nightlife that the area is known for thanks to Kenny Chesney and Jimmy Buffett.
Lost Key Golf and Beach Club
Perdido Key is home to the Lost Key Golf and Beach Club, a master planned community.  But it's definitely not like your gated community back home. Lost Key is nestled within hundreds of acres of land that has been set aside as a wildlife sanctuary. So your townhome or villa will look out upon the pines and dunes that are thriving with birds and other wildlife. The Lost Key Golf Club is situated inside the community and is the only golf course actually on the Key. The community offers a free shuttle which will pick you up on demand at your doorstep and carry you the short distance to a private beach club that offers food and beverages year round. The neighborhood has over 5 miles of walking trails and it's not uncommon to see Bald Eagles or Osprey flying overhead as you enjoy a scenic walk to the resort style pool or to the beach (if you want to stretch your legs versus taking the complimentary shuttle). 
Perdido Key is the closest of these towns to Pensacola and a major airport which is just 45 minutes away. The beautiful downtown area of Pensacola is an easy 30 minutes drive and offers wonderful restaurants and the world famous McGuire's Irish Pub. Perdido Key is next door to Orange Beach, so it's also just a short drive if you are looking for more activities and places to eat. 
Orange Beach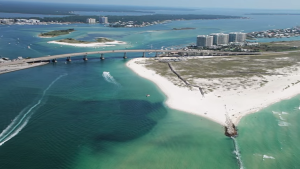 Over the years Orange Beach has gone from obscurity to now being the most well known of the 4 towns along this stretch of the Gulf Coast. Its beaches are lined with high rise condominiums and the restaurant choices are many. Even if this isn't the vibe you are looking for 24/7, Orange Beach is very accessible as it sits directly in between Perdido Key and Gulf Shores so you can stay in one of the quieter locations and utilize Orange Beach for its entertainment and hospitality. Orange Beach has several publicly accessible beaches, all with parking which is available for a small fee. The city nurtures its beaches, so they are some of the widest beaches in the area. 
If you love to boat and fish, Orange Beach offers the largest charter boat fleet on the Gulf Coast. Many boaters love to visit the islands that sit just inaide the bridge that spans the Perdido Pass and the entrance to the Gulf.  Be aware because this area gets very crowded during the summer months. 
Orange Beach is the more upscale of it's sister beach towns. It offers boutiques and day spas and is home to The Wharf, a one of a kind entertainment district with shops, restaurants, movies and a 10,000 seat amphitheater which brings in well known musical acts each summer (did someone mention Kenny Chesney and Jimmy Buffett). Both Orange Beach and Gulf Shores offer the closest proximity to Foley, Alabama which is home to the Tanger Outlet stores and OWA, which features an amusement park and a massive indoor water park. 
Gulf Shores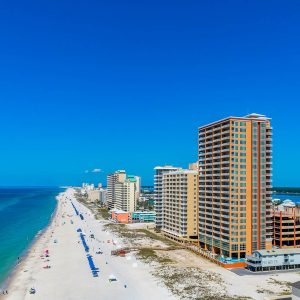 Gulf Shores is the original of the popular beach towns that make up the Alabama Gulf Coast. Tourists have been coming here since the 40's and 50's, and it no longer resembles that Gulf Shores. High rise condos may now line the beach, but it is still the most stereotypical beach town of the four areas. It has several restaurants and shops and also has many more family activities that you find in a beach town such as putt-putt golf and go-cart tracks. Gulf Shores is home to LuLu's, the restaurant owned by Jimmy Buffett's sister. It is also home to the Hangout Music Festival which fills up the public beach with world famous musical acts during the spring. 
Gulf Shores has a very popular beach located downtown front and center and it is the centerpiece of the town. Parking is available for a small fee. From this beach you can easily walk to restaurants and shopping. None of the other areas offer this type of downtown beach town experience. 
Fort Morgan
If Gulf Shores is the original beach town, it should probably be noted that Fort Morgan was probably the first populated area – although for a different reason. The Fort Morgan area is named for a civil war era fort which is still there and available to tour.
The Fort Morgan area is much less developed than the other four areas. There are a few high rise condos, but most of the place to stay in the area are beach homes. The beaches are much less developed and there are only a handful of restaurants in the area. You will have to drive into Gulf Shores for groceries or other things you may need. However, if you are a star gazer, Fort Morgan is definitely the place to be. Without the condos and other development, you have dark skies no affected by light pollution. Fort Morgan is also along the major bird migration routes and during migration time, birders from all over flock to the area to photograph and catch a glimpse for the rare birds making their way to South America. 
The Gulf Coast along Alabama and northwest Florida offers some wonderfully diverse areas to stay. Each area has their own strengths and all are within an easy drive of each other. All you have to do is pick the one that is right for you and your family for your next stay.